Ensuring reproductive rights for all
20 June 2018
Speech of Ms. Astrid Bant, UNFPA Representative in Việt Nam at the Workshop on Population Indicators of the Viet Nam's SDG Statistical Indicator System
Mr. Pham Quang Vinh, Deputy Director, General Statistics Office, Representatives of MPI's departments/GSO, line-ministries, Representatives of international organizations, research institutions, UN colleagues, Ladies and Gentlemen, Very good morning to you all, I am delighted to be here today to attend the Consultative Workshop
14 May 2018
UNFPA Viet Nam Statement on Singer Pham Anh Khoa
HA NOI, 14 May 2018 – In the wake of allegations of sexual harassment against the popular singer Pham Anh Khoa, initially disseminated via social media, UNFPA Viet Nam is dissolving its partnership with Mr. Pham Anh...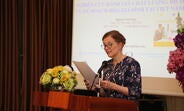 Although Viet Nam has made considerable improvements in its family planning service...

This report was developed by Ministry of Health, with technical and financial support...
No vacancies currently available