Ha Noi, 8 March 2013 - "It is critical for Viet Nam to continue developing appropriate youth-friendly services that respond to the current needs of the huge young population," emphasized the Chairman of the National Assembly's Committee for Culture, Education, Youth, Adolescents and Children at a workshop on Policies on Sexual and Reproductive Health (SRH) and HIV for Young People organized today in Ha Noi by the National Assembly and the UN in Viet Nam.
Young people make up approximately 40 per cent of the total population of Viet Nam, recording the highest proportion ever in the country's history. As Viet Nam experiences rapid economic and social development, sexual norms and behaviour are changing. Recent studies show that one third of Vietnamese young people continue to face barriers when trying to access reproductive health information and services. As a result, a significant number of unwanted pregnancies and unsafe abortion occurs among young people, especially unmarried young people.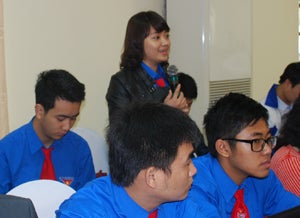 "Our knowledge on SRH issues is still limited. This workshop is a great chance for us to understand more about the issues. We would like to have more workshops like this so that we could share our opinions and improve our knowledge," shared Le Giang, a student from the Hanoi Medical School.
Involving young people 
The workshop provided an opportunity to discuss and exchange ideas on the implementation and challenges of SRH/HIV-related policies and legislation for young people. The presentations facilitated active discussions between policy makers and youth representatives on how to increase a meaningful participation of young people and ensure their voices are heard in youth-related policy development and implementation. 
The participants also discussed solutions and shared their suggestions on how to improve the muli-sectoral coordination mechanism, in response to young people's rights and needs, and how to ensure their full access to quality SRH information and services.
Although many policies and laws on young people have been issued by the government, more efforts are needed to enforce the implementation of these laws and policies, particularly the Youth Law at the multi-sectoral and sub-national levels to ensure that young people, especially vulnerable groups, receive the information, services and opportunities they need. It was suggested that the upcoming youth law review in 2015 take into account a rights-based approach to youth development.
As Ngoc Cham, a student from Ha Noi University of Culture said: "We would like to have more voices from the most vulnerable groups of young people, such as ethnic minorities, poor youth, young people with disabilities... to youth related-policies and programme development,"
Investing in youth 
In her opening remarks, Ms. Mandeep K. O'Brien, UNFPA Representative a.i, on behalf of the UN in Viet Nam, stressed that: "Young people's needs and rights should be at the forefront of Viet Nam's development agenda, and investing in youth should be viewed as an investment in our future, not expenditure. By joining forces and working together, I believe no goal is too high to reach,"
In her conclusion, Ms. Ngo Thi Minh, Vice Chairwoman of the National Assembly's Committee for Culture, Education, Youth, Adolescents and Children requested the relevant Committees of the National Assembly and elected organizations, including Peoples' Council, to improve the work on the development, implementation and oversight of policies on SRH/HIV for young people and to create an enabling environment for young people to raise their voices and participate in decision-making process. She also highlighted that the upcoming revision of the Youth Law in 2015 will be a good opportunity to reinforce young people's SRH needs and rights as well as their recommendations from the consultations.
More than 120 participant attended the event, representing the National Assembly's Committees for Culture, Education, Youth, Adolescents and Children; Social Affairs; and Justice, as well as the Ministries of Health; Education and Training; and Home Affairs; the Youth Union; the Youth Research Institute; other youth related ministries and departments; the UN in Viet Nam; international and local NGOs; and the media. In addition, 30 youth representatives from five universities in Ha Noi also participated in the event.