HA NOI, 2 November 2020 – The United Nations Population Fund (UNFPA) in Viet Nam provides 3,700 Dignity Kits along with communication materials to assist Viet Nam in fighting against Gender-Based Violence (GBV) under the COVID-19 pandemic. The Dignity Kits will be distributed to women at high risk of Gender-Based Violence (GBV) in humanitarian context, particularly in COVID-19 pandemic, through national and sub-national levels.
2,800 dignity kits were delivered to the Viet Nam Farmers' Union in the handover ceremony held this afternoon chaired by Mr. Thao Xuan Sung, Chairman of the Central Committee of Viet Nam Farmers' Union and Ms. Naomi Kitahara, UNFPA Representative in Viet Nam. These set will be sent to women at risk of GBV in Da Nang city. The rest of 900 dignity kits were delivered to the Ministry of Labour, Invalids and Social Affairs for handing over to 17 social work centers nationwide, as well as to the Center for Studies and Applied Sciences in Gender - Family - Women and Adolescents (CSAGA) for delivery to communities and Anh Duong House for GBV survivors in Quang Ninh province.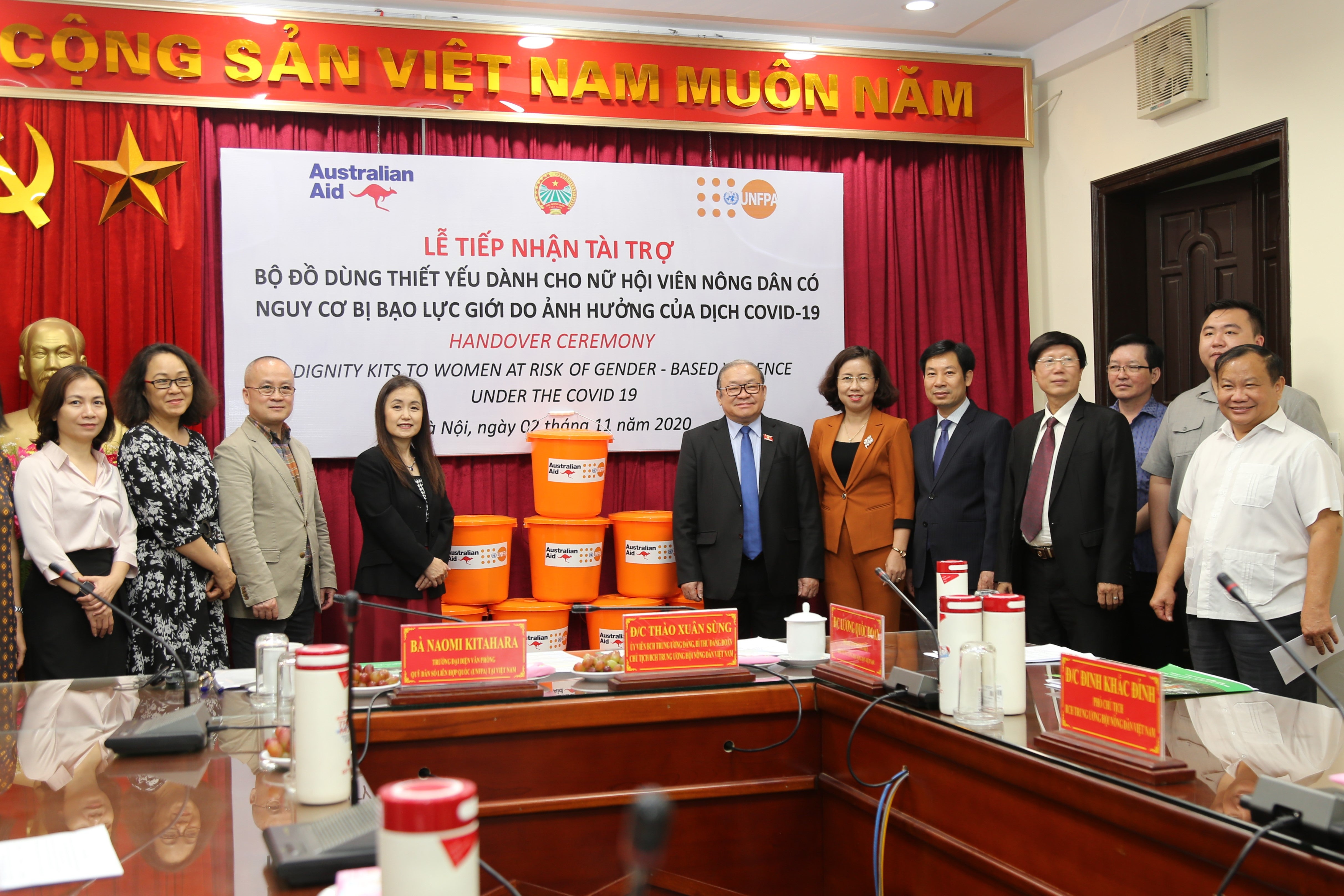 Violence against women and children is one of the most pervasive human rights violations in the world today, and its negative impact on survivors, their families, and communities is immense. The National Study on Violence Against Women in Viet Nam in 2019 showed that nearly two in three married women (almost 63 per cent) have experienced one or more forms of physical, sexual, emotional and economic violence and controlling behaviours by their husbands in their lifetime, and almost 32 per cent in the last 12 months.  About 48 per cent of victims did not tell anyone about the violence they endured, and 90.4 per cent did not seek any help from public services. The overall productivity loss caused by violence against women was estimated at 1. 81% of GDP in 2018.
A pre-existing crisis of violence against women and children has been exacerbated in the context of Covid-19. Recent reports have shown that restrictions in movement, social isolation and similar containment measures, coupled with existing or increased social and economic pressures and stress on families, have led to an increase in violence, particularly against women and children. In many countries it is estimated that such violence has increased by at least 30 per cent.
In Viet Nam, the Peace House Hotline 1900 969 680 (a shelter run by the Viet Nam Women's Union) and the Sunshine Hotline 1800 1769 (as supported by UNFPA in Quang Ninh province in partnership with Korea International Cooperation Agency - KOICA) have received twice as many calls for help over the past months compared to the same months in previous years. It has been reported that risks of physical abuse, sexual abuse and child sexual abuse and exploitation have increased substantially.
The Dignity Kit is a signature feature of UNFPA's comprehensive package of humanitarian assistance to safeguard the sexual and reproductive health and rights of women and girls, mitigate the risk of gender-based violence, and respond and protect the dignity of women and girls adversely affected by a crisis.
Preserving dignity is essential to maintaining self-esteem and confidence, which is important to cope in stressful and potentially overwhelming humanitarian situations. The Dignity Kit comprises the basic items that women and girls need to protect themselves and maintain their basic hygiene, respect, and dignity in the face of crisis.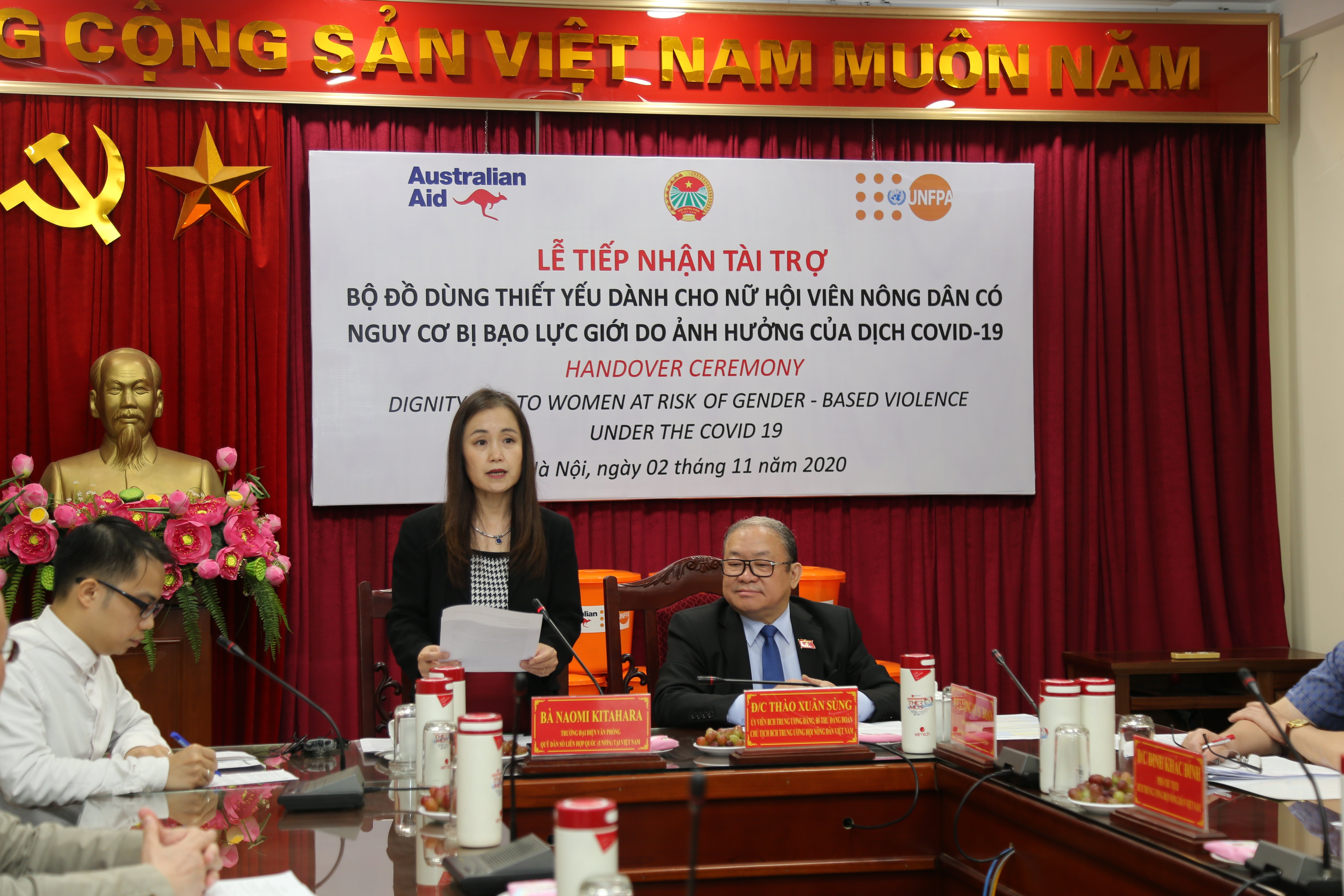 "UNFPA is calling on the Government and partners to prioritize sexual and reproductive health of women and girls, address high risks of gender-based violence, and respond urgently to their special needs," said Ms. Naomi Kitahara, UNFPA Representative in Viet Nam at the handover ceremony.
 "Supporting people affected by humanitarian crises is not only the right thing but also the wise thing to do to save lives and build resilience to avoid COVID-19 from cycling back to the vulnerable people and communities around the globe. Frontline health workers must also be protected from COVID-19 and be provided with personal protective equipment to treat infected patients and continue to provide essential services," added Ms. Kitahara.  
UNFPA is the United Nations sexual and reproductive health agency. Our mission is to deliver a world where every pregnancy is wanted, every childbirth is safe and every young person's potential is fulfilled.
This activity is under the Government of Australia (DFAT) funded project on "Supporting Interventions to Eliminate Violence against women and Children in Viet Nam under COVID 19 Emergency Context".
For further information, please contact:
Ms. Nguyen Thi Hong Thanh | UNFPA Communications
Email:  tnguyen@unfpa.org | Tel: 0913093363