HA NOI, 12 April 2013 - "It is important to have greater synergy and coordination among all relevant sectors and stakeholders working to prevent and address domestic violence. Such a coordinated multi-sectoral response to domestic violence must be well planned and monitored. This will help to translate the national laws and legislation into actions, so that we can ensure that all those who suffer from and are at risk of domestic violence have access to quality health care, safety and protection measures, as well as effective legal services," emphasized Ms. Mandeep K. O'Brien, UNFPA Representative a.i. in Viet Nam at the consultative workshop on Multi-sectoral Coordination Mechanism and the Minimum Intervention Package for Domestic Violence Prevention and Control organized today in Ha Noi by the Ministry of Culture, Sports and Tourism (MOCST) and the UNFPA in Viet Nam.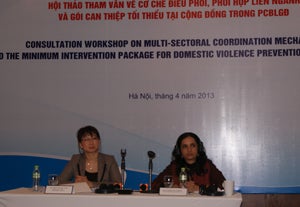 Domestic violence is a serious problem in many countries in the world 
Although the rights of women and girls to live free of violence are enshrined in international human rights law, domestic violence continues to be a serious problem in many countries in the world. Globally, as many as one in every three women has been beaten, coerced into sex or abused in some other way – most often by someone she knows, such as her husband or another male family member. One woman in four has been abused during pregnancy.
Data from the "National Study on Domestic Violence against Women in Viet Nam" released in 2010 shows that one in three, or 34 per cent, of ever-married women report that they have suffered physical or sexual violence from their husbands at some time in their lives. This research marked a big step forward in our understanding of the issue and our collective efforts to end domestic violence in Viet Nam and strengthen the services and support to those women affected by it. This is a violation of human rights and unacceptable.
The minimum intervention package: one important step in addressing domestic violence in Viet Nam 
As gender-based violence is one of the key indicators to monitor the achievement of Millennium Development Goal 3 on gender equality, as well as the implementation of the Convention on the Elimination of All Forms of Discrimination against Women (CEDAW), the UN in Viet Nam has prioritized efforts to address this issue in the UN One Plan 2012 - 2016. 
Since July 2012 when the Prime Minister approved a new collaboration between the MOCST and UNFPA on development of a national coordinated response to domestic violence, the minimum intervention package for all victims and survivors of domestic violence is one important step in addressing this critical issue in Viet Nam. As a minimum, the intervention package will include three components of prevention; referral system; and safety and protection.
A series of four consultations have been organized on this topic over the last six months to collect comments and feedback from different stakeholders on the draft versions of the minimum intervention package. It is expected that the final version will be ready in May 2013 for piloting in two provinces of Hai Duong Ben Tre. 
Based on results and lessons learned from the pilot in these two provinces, the minimum intervention package will be further adjusted with prioritized interventions in response to local context. Importantly, the minimum intervention package will not be well implemented without a strong coordination mechanism at both national and sub-national level, with clear roles and responsibilities of each relevant sector and stakeholder.
A cost-effectiveness analysis of the pilot intervention models in the provinces will further guide their replication nationwide.
The workshop received great attention and participation from different line ministries, social organizations and international development partners. This clearly showed strong partnership and commitment between the Government and international partners in strengthening the status of women and promoting gender equality.