A delegation from the Committee for Social Affairs (PCSA) of the Viet Nam National Assembly led by Hon. Mr. Nguyen Hoang Mai, PCSA Vice Chairperson, went on a study mission to South Korea from 14 to 21 August 2022 to learn South Korea's experience in health, population and development policies, covering issues such as gender biased sex selection (GBSS), gender-based violence, women empowerment and gender equality, and population ageing.  The mission was jointly facilitated by the UNFPA Offices in Viet Nam and South Korea, and jointly financed by the National Assembly and UNFPA Viet Nam.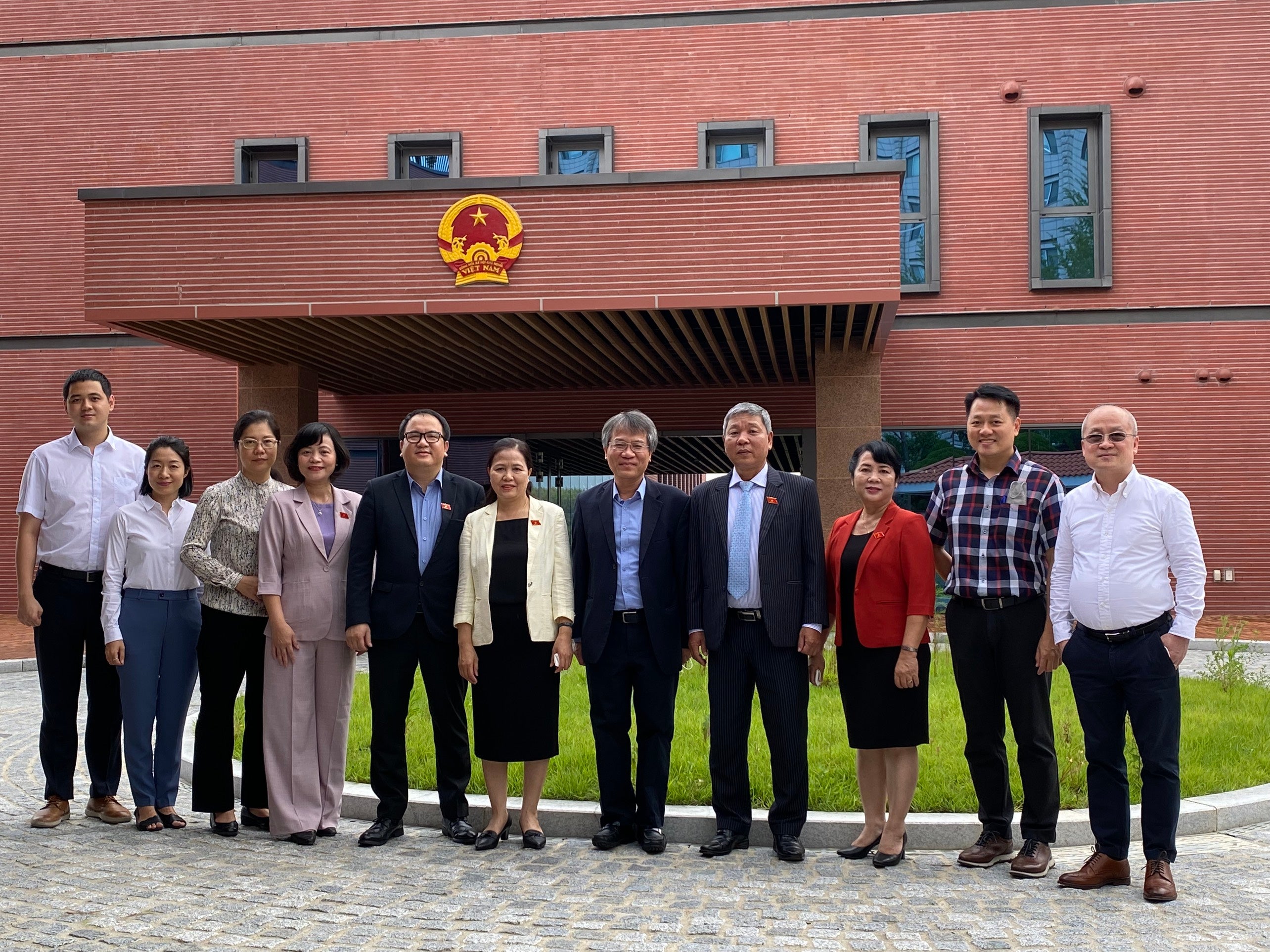 On health-related issues, the delegation interacted with the Korean Population, Health and Welfare Association (KoPHWA) to appreciate how low fertility has been addressed. and how family-friendly social environments, parenting programmes, and the provision of health promotion services have been developed for mothers, infants, and vulnerable low-income groups.
Additionally, the delegation exchanged views with the Vice Minister of Health and Welfare, the Director of the Parliamentarian Committee for Health and Welfare, and the Director of the National Health Insurance Services on health policies including sexual and reproductive health policies, universal health coverage (UHC), and health insurance and budgeting in light of population aging. Through a visit to the Korean Health Personnel Licensing Examination Institute (KHPLEI), Korean policies and practices were shared on human resource management in medicine.
Moreover, the delegation visited the Myongji Hospital to learn more about practices of telemedicine provided, including during Covid-19 pandemic, and discussed on service pricing, quality control and referral mechanism between hospitals.
On gender-related issues, the delegation learned from the Committee for Women and Gender Equality at the National Assembly, particularly on son preference. The experience of South Korea is often cited as a success story to correct the unbalanced sex ratio at birth (SRB) as a result of GBSS.  At present, Viet Nam's SRB is third highest in Asia, following China and India.  
The delegation also visited one of the 39 Sunflower Centers, which offer integrated services to survivors of gender-based abuse, as an illustration of a successful response to gender-based violence. The Sunflower house model has been adopted in Viet Nam for the establishment of the UNFPA-supported One Stop Service Centers (OSSC), when 2 in 3 women in Viet Nam experience one or more forms of violence in their life time according to the 2019 National Study on Violence against Women. So far, the first OSSC was established in Quang Ninh province (with support from KOICA), followed by three additional centers in Thanh Hoa province, HCMC and Da Nang City (in partnership with the Government of Japan). It is planned that 6 more OSSCs will be established in coming years with funding from Australian DFAT.
Furthermore, the delegation had a policy dialogue with the Korean Prime Minister's Office through the Korean Women's Development Institute (KWDI) on the prevention and response to gender-based violence as well as in addressing imbalances in sex ratio at birth (SRB) and GBSS. This is timely as Viet Nam prepares for the approval of the revised Law on Domestic Violence prevention and Control during the October session of the National Assembly in 2022.
In conclusion of the mission, Hon. Mr. Nguyen Hoang Mai expressed his gratitude to the host institutions for their hospitality and emphasized the importance of the Vietnamese National Assembly mission in terms of gaining knowledge of South Korean policies, policy implementation, governance, and best practices in the fields of population and development, health provision, and other related areas. It is towards working out details further on how the international-level best practices can be introduced, or adjusted to be instituted in Viet Nam. As the National Assembly, which provides guidance to the government, it is critical that the delegation fielded this mission for policy options, as well as technical guidance and directions, particularly for emerging population issues.