HA NOI, 22 October 2014 – A cycle parade and a closing ceremony of the first-ever national campaign to address the Sex Ratio at Birth imbalance was held in Ha Noi on 21 October by the UNFPA in Viet Nam and the General Office for Population and Family Planning (GOPFP).
The Sex Ratio at Birth (SRB) imbalance is an increasing concern in some Asian countries, where about 117 million women and girls are reported as "missing". In Viet Nam, the SRB rose from 106.2 boys per 100 girls in 2000 to 112.6 boys per 100 girls in 2013, and this alarming trend is expected to continue. If no intervention is made, it is estimated that by 2050, Viet Nam will be confronted with a scenario of an excess of around 2.3 to 4.3 million men.
Over the past few years, the Government of Viet Nam, civil society organizations and development partners have continued to raise their concerns about the SRB imbalance. Such concerted action has delivered positive results with the Government now moving to address the issue. This first-ever national campaign, "Joining hands to address the SRB imbalance", was one such important step in confront this critical issue in Viet Nam.
"Addressing the SRB imbalance requires a real social movement that involves every citizen of this beautiful country. The SRB imbalance is a Vietnamese problem and only the Vietnamese people can solve it. It is not the business or task of one single agency or Ministry, it's really everybody's business! It requires the commitment of all involved to work towards a Viet Nam where women and men, boys and girls are treated equally; where women and girls have equal opportunities to succeed in society as men and boys have; where we value our girls as much as we value our boys; a modern Viet Nam where son preference is a thing of the past! Only then can we secure a bright future for Viet Nam," said Mr. Arthur Erken, UNFPA Representative in Viet Nam.
This campaign exemplified the need to work together to address concerns of a skewed SRB. Nearly 7,000 women and men, boys and girls participated in the campaign over the past four weeks, including Deputy Prime Minister Vu Duc Dam, leaders of the Ministry of Health, Ministry of Labour, Invalids and Social Affairs, Farmers' Union, Women's Union and Provincial People's Committees of Bac Ninh and Hai Duong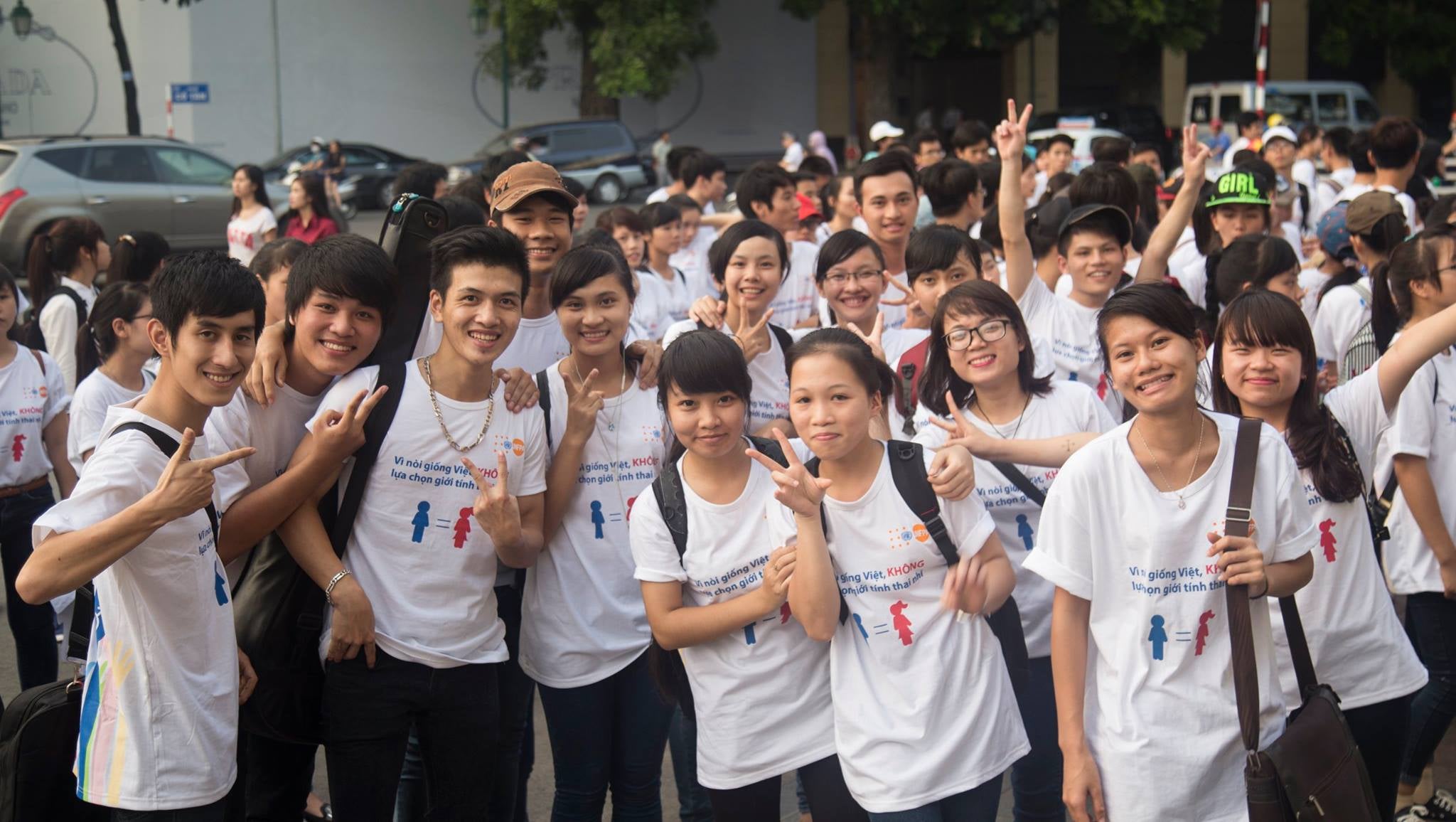 The campaign closed with a series of nationwide communication activities, having opened the door to new opportunities for more effective collaboration in addressing this issue. UNFPA will continue to engage civil society and the private sector in ending discrimination against women and girls and to empower them. However, women alone cannot address the issue - it must be done in partnership. Young men and boys must be encouraged to step forward as agents of necessary social and cultural change.