HA NOI, 9 July 2016 – On 11 July, as communities everywhere observe World Population Day, Ministry of Health and UNFPA in Viet Nam call for investments in support of teenage girls.
Today, there are about 1.8 billion young people – those aged 10 to 24 – comprising roughly one quarter of the world's population. Their aspirations and achievements will shape the future.
"The new development agenda calls on us to leave no one behind. To reach those furthest behind, leaders and communities must focus on and stand up for the human rights of the most marginalized teenage girls, particularly those who are poor, out of school, exploited, or subjected to harmful traditional practices, including child marriage. Marginalized girls are vulnerable to poor reproductive health and more likely to become mothers while still children themselves. They have a right to understand and control their own bodies and shape their own lives," said Dr. Babatunde Osotimehin, Executive Director of UNFPA.
Teenage girls around the world face more and greater challenges than their male counterparts.
In many countries, a girl who reaches puberty is deemed by her family and community as ready for marriage, pregnancy and childbirth. She may be married off and forced to leave school. She may suffer a debilitating condition from delivering a child before her body is ready for it. She may be denied her human rights.
Without education, in poor health, and with little or no control over her own body, her future can be derailed, and her potential may never be realized. The challenges and obstacles faced by a teenage girl multiply if she is a member of an ethnic minority, lives in a village and is from a poor household.
If girls are given a chance to stay in school, get access to health services, delay marriage and childbirth, it's not only them who benefit - so do their children, families, communities, and countries.
Addressing the Celebration to mark World Population Day 2016, Minister of Health Nguyen Thi Kim Tien emphasized: "Data from the 2009 Population Census shows that Viet Nam is experiencing a "golden population" period, recording the highest proportion of young people in Viet Nam's history. Young people between the ages of 10 to 24 years old now represent nearly 40 per cent of the total population. This "demographic window of opportunity" presents Viet Nam with a one-time and unique opportunity in its history to plan for this population transformation, to make this golden period the driver for socio-economic prosperity the way other countries in Asia have so successfully done, by ensuring that everyone counts and that every young person is educated and supported to achieve their full potential".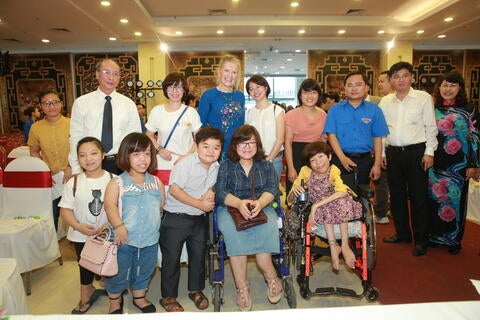 "Ensuring that girls, on equal footing with boys,  are able to exercise their rights, such as, make their ideas and demands be heard and acted on, pursue their education, do no more than a fair share of work in the household, and have the skills and opportunity to join public service and the workforce is not only essential for their own well-being, but lays  a critical foundation for the health and prosperity of families, communities and nations," said Ms. Astrid Bant, UNFPA Representative in Viet Nam.
On World Population Day 2016, both the MOH and UNFPA call for strong investments in teenage girls to ensure that we will be able to deliver a world where every pregnancy is wanted, every childbirth is safe and every young person's potential is fulfilled!
For further information, please contact:
Ms. Nguyen Thi Hong Thanh
UNFPA Communications
Mob: 091 309 3363
Email: tnguyen@unfpa.org