Published on: 24/12/2015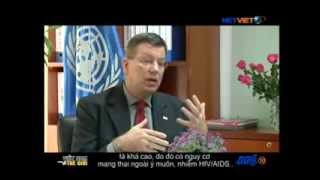 HA NOI, 12 August 2013 – Today marks the International Youth Day, and this year the focus is on the issue of youth migration. Young people, aged 10-29 years old, make up approximately 38 per cent of the total population of Viet Nam, recording the highest proportion of young people ever in the country's history. This provides a unique and one-off economic opportunity for Viet Nam's development, but also creates enormous challenges for the country. If Viet Nam wants to reap the full benefits of this demographic window of opportunity, investing in the education and health, including the sexual and reproductive health, of adolescents and young people is paramount.
VTC10-NetViet reporter had an interview with Mr. Arthur Erken, UNFPA representative in Viet Nam on the occasion of International Youth Day. Mr. Erken shares his opinion about the situation of young migrants in accessing to sexual and reproductive health information and services in Viet Nam.