Published on: 24/12/2015
From October 2007 to May 2012, a project on "Strengthening the accessibility and quality of reproductive health care with focus on safe motherhood, adolescent reproductive health and reproductive rights" was implemented in the four provinces of Quang Ninh, Hue, Nghe An and Can Tho by the Viet Nam Family Planning Association (VINAFPA), with technical assistance from UNFPA and financial support provided by the Government of Luxembourg. The project aimed to help Vietnamese people, youth and adolescents in the project sites acquire the skills necessary to develop and sustain healthy and happy lives, particularly in areas with unmet needs for sexual and reproductive health, including family planning.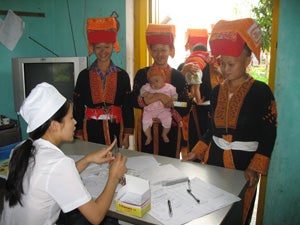 This 13-minute video highlights key achievements of the project, as well as details how to sustain these achievements and further apply them in other provinces, so that more vulnerable women, men and young people and adolescents, whether from urban or rural areas, or from majority or minority ethnic groups, will have access to comprehensive sexual and reproductive health care services.