Ha Noi, 27 March 2013 - During the past 50 years, many East Asian countries have witnessed a remarkable decline in Total Fertility Rates (TFR) from a high level of 5 or more children per woman in the period 1965-1970 to below the replacement level of 2.1 children per woman in the period 2005-2010. The countries where fertility declined need to foresee the consequences and start preparing for policy response to address the challenges of fertility decline. These key findings were presented today in Ha Noi at the workshop on "Sharing International Experience in Fertility Decline", co-organized by the Ministry of Health (MOH) and the United Nations Population Fund (UNFPA) in Viet Nam. 
Viet Nam has a significant demographic window of opportunity for making right choices of socio-economic investments in population and sustainable development 
Data from the population-based surveys in Viet Nam indicates that fertility has consistently declined and reached below replacement level: 2.1 in 2005; 2.03 in 2009; 2.0 in 2010 and 1.99 in 2011. This is a great achievement of the country's National Programme on Population and Family Planning over the past decades. 
Addressing the workshop, Director of the General Office for Population and Family Planning Duong Quoc Trong said that due to decreasing fertility and increasing life expectancy, Viet Nam's population structure has been changed and will continue to change in the coming years. He also emphasized that the experiences and lessons learned from other countries in the region on policy response to low fertility will be very useful for Viet Nam in addressing new emerging population-related issues for the upcoming Population Law.
Learning from the successes and failures of the countries in the region to grasp the opportunities and address the challenges of this demographic transition. 
According to the international experts, while several countries in the region continue to be in transition and near the replacement level, many countries have reached low and critically low levels in the period 2005-2010: China at 1.64; Thailand at 1.63; Republic of Korea at 1.29; and Singapore at 1.25 children per woman. However, in these countries including Viet Nam, fertility decline has been uneven between urban and rural areas, geographical regions, ethnic groups and women with different educational background. In the presentations by the experts, the link between fertility level and universal access to quality sexual and reproductive health services was highlighted. Declining fertility emphasizes, ever than before, the need for universal access to comprehensive and quality reproductive health services.
 
As a result of low fertility, presentations from the experts showed that fewer children are born and progressively large numbers of adults move into the older age groups. Changes in age structure of the population and population ageing are consequences of low fertility. The proportion of the population under age 15 will experience a continuous fall, while the proportion of the population aged 60 or older will increase during the period 2000 to 2050. Population such as those in the Republic of Korea and Singapore will also exhibit a lower proportion of populations in the working ages in the next 50 years. The number of population over 80 years of age in these two countries is projected to increase by almost 10 times over the next 50 years.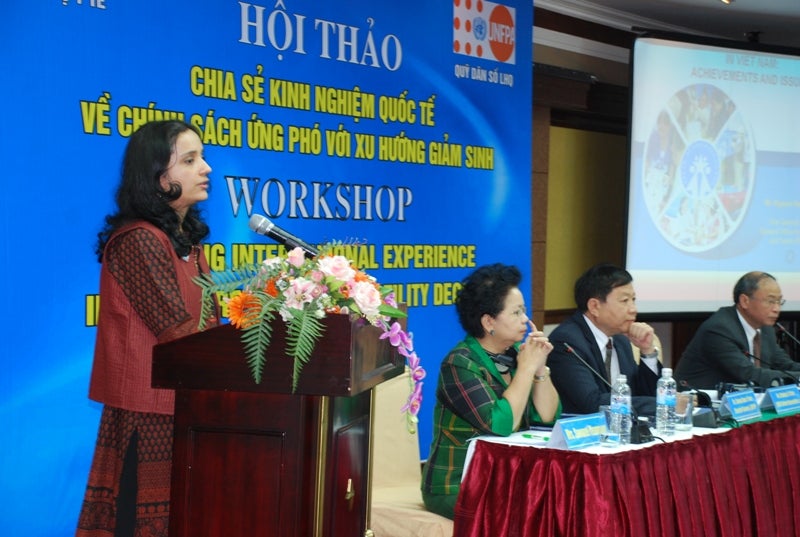 In her opening remarks, Ms. Mandeep K. O'Brien, UNFPA Representative a.i. in Viet Nam stressed that: "Viet Nam is undergoing a unique demographic dynamic. There is a significant young population; ageing is on the rise and at the same time there is an imbalanced sex ratio at birth. Therefore, it is important that the upcoming population law addresses the opportunities and challenges of this unique demographic dynamic to promote a better quality of life for all. It is essential to employ a comprehensive approach to this demographic dynamic, an approach that is firmly oriented towards sustainable development and guided by a voluntary and rights-based principle".
Participants of the workshop were representatives from MOH, health social scientists, demographers, experts, research institutes, and Government agencies at the national and sub-national levels as well as the United Nations organizations, the international and local NGOs in Viet Nam. In addition, there were international experts from China, India, Republic of Korea, Singapore and Thailand participating and sharing their country-specific experiences.
Outcomes of the workshop will inform policy makers and legislators with evidence compiled from both researches and actual policy implementation in the countries that experienced a demographic transition similar to Viet Nam. Furthermore, a number of policy implications and recommendations shared at the workshop help lay the foundation for a more comprehensive policy and legal framework to address new challenges of fertility decline in Viet Nam.